Food As Medicine Everyday (FAME) Course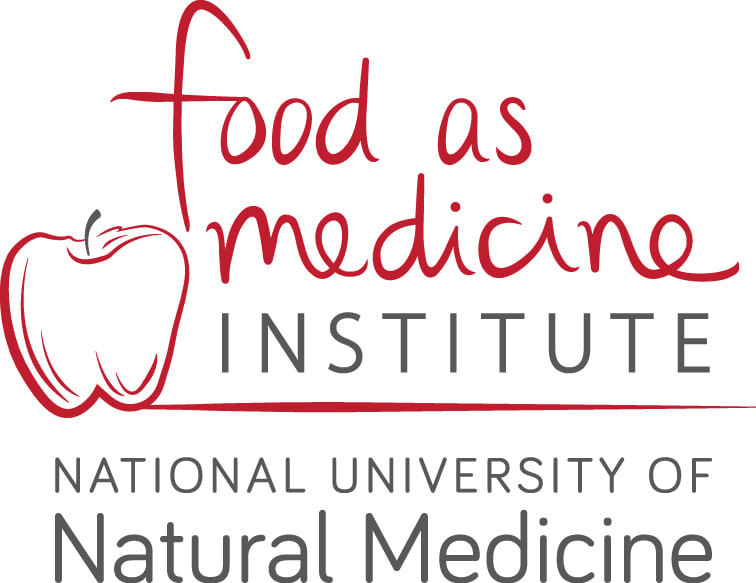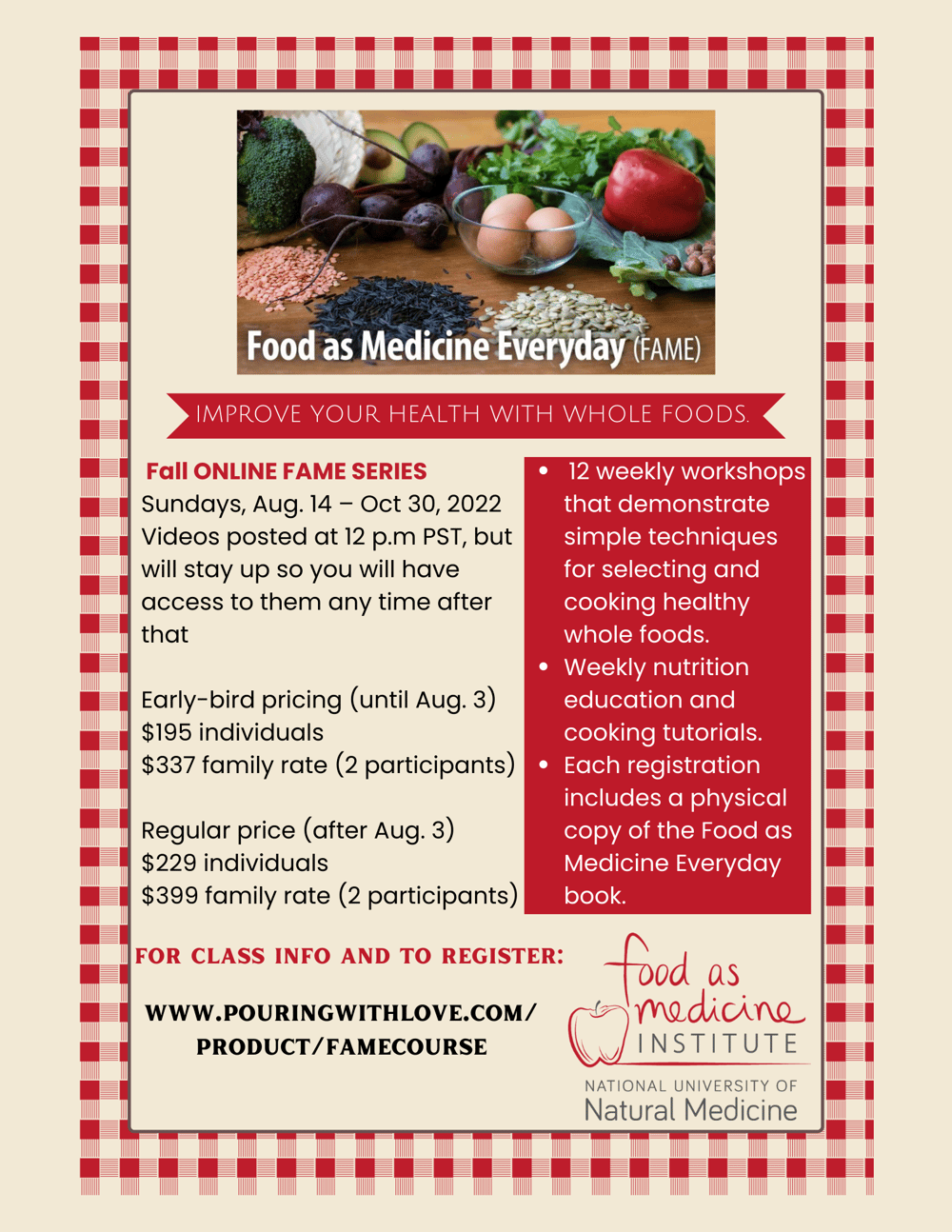 This listing is for a spot in my Food as Medicine Everyday (FAME) fall course. I am a certified FAME educator and will be running this course. This is an ONLINE course running Aug 14-Oct 30, 2022. You will be given access to a Google Drive folder for this course. Each week on Sundays at 12pm PST I will post that week's lesson, cooking tutorial, recipe, and more. The videos are posted at 12pm but will remain in the folder so you can watch them on your own time. Also in the folder will be documents for you to post any questions you may have about the lesson, recipes, etc. If you sign-up as an early bird, you will notice below you have the option when checking out to order the book with your sign-up. If you do so, the book will be mailed to the address you check out with so make sure it is correct. I am only accepting orders with book for early birds to assure they make it on time, as they are shipped to me and then I must ship them out. If you are signing up after early bird or would just like to order your own book directly to your home, or would like an ebook instead, the links are listed at the bottom of this description! If you have any trouble ordering please feel free to reach out.
About this course:
This is a 12 week course, in which you will have weekly workshops where we discuss techniques for both selecting and cooking healthy whole foods, and learn about nutrition. Some example topics include: Learning to Read Food Labels, Macro and Micro Nutrients, Benefits of Breakfast, Balancing Blood Sugar, Sweeteners and Alternatives, Shopping Tips, and more.
Why is the course expensive?
I have tried to price this course as fairly as I can to make it accessible for as many people as possible. The price you see includes: the time and experience that goes along with dozens of hours of work and weekly lessons from a trained FAME educator (myself), the cost of your physical book if you choose that option and shipping, and supplies for the demonstrations. I have priced the course as low as possible to account for these costs and be fair to my time. A 12 week course for $195/person is only $16.25 per class, which includes a lesson/education, recipes and shopping tips, and access to ask questions from your trained educator; I hope you can see that this is very fair pricing. This being said, you will see below there is an option to sponser someone or apply to be in a waiting line for any sponsorship spots. Read more on that below.
Sponsoring:
I have offered a purchase option to "SPONSOR SOMEONE'S COURSE". If you choose this option to checkout, please note you do NOT get access to the course; you are paying the course fee which I will then allow someone who applies for the scholarship to have access to the course, paid by your donation. To apply for a sponsorship slot in the course, please use the contact me form on this website or email me at tiameechan@gmail.com with "FAME Scholarship" in the Subject. Please note I cannot guarantee any scholarships as it is based on if there are any sponsorship payments made.
Book Ordering:
NUNM Press: https://nunm-press.square.site/product/food-as-medicine-everyday-reclaim-your-health-with-whole-foods/4?cp=true&sa=true&sbp=false&q=false
Amazon, physical book (new and used) OR e-book/kindle are available: https://www.amazon.com/Food-Medicine-Everyday-Reclaim-Health/dp/194578508X/ref=tmm_pap_swatch_0?_encoding=UTF8&qid=1604366059&sr=8-6.
This course is not to taken as medical advice. Any information through this course is not to be a substitute for professional medical advice and/or service, The information in this course is not intended to diagnose, treat, or cure disease. Do not disregard professional medical advice or delay seeking
advice or treatment based on any information in this course.